Dessins éditoriaux /

Editorial drawings
Jusqu'ici pour Le Québécois, Le Taon, À Bâbord!, Ensemble (finaliste au Grands prix du journalisme indépendant – 2012)  ainsi que sur le «Blog d'Aprilus».
Up to here for Le Québécois, Le Taon, À Bâbord!, Ensemble (finalist in Grand Prix of the independent journalism – on 2012) as well as on the Blog of Aprilus.




Dessin satirique /
Satirical drawing
*ATTENTION CŒURS SENSIBLES!*
*BEWARE SENSIBLE HEARTS!*
Avis aux hermétiques du genre, les dessins satiriques se trouvent sur le BLOG.
Notice to the hermetic of the genre, the satiric drawings are on the BLOG.
L'humour extrême m'est tombé dessus grâce au «Gros Dégueulasse» de Reiser, aux «Idées noires de Franquin» et à l'«Elvis Gratton» de Pierre Falardeau. Véritable exutoire, il me retient de poser des bombes ou d'entarter les politiciens. Cet art peu représenté au Québec est pourtant répandu en Europe, notamment en France avec Charlie Hebdo, Siné Mensuel et les nouveaux crus de Fluide Glacial.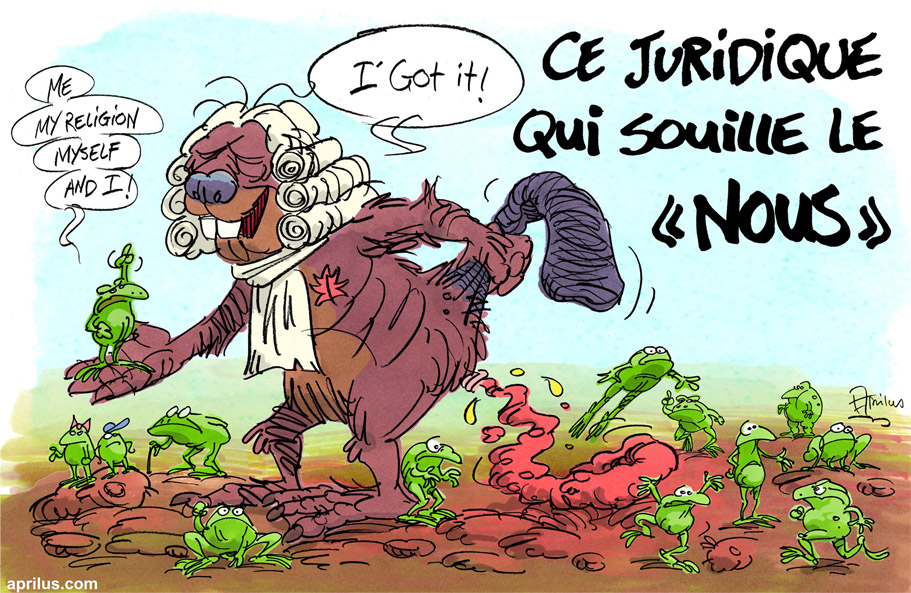 Si à la polyvalente ce ton subversif me valait de ne jamais voir mes œuvres exposées; en revanche, nous étions nombreux à y puiser un véritable antidote à l'écrasante bien-pensance qui régnait alors, faisant fi des révoltes qui bouillaient au creux de nos veines adolescentes. Salvateur et célébrant l'absurdité du monde, le dessin extrême trouvera toujours des amateurs.
Mes dessins de ce cru sont autant de petites bombes lancées à la gueule de la résignation, des obscurantismes, du fédéralisme canadien et de l'insatiable gloutonnerie capitaliste. Je souscris pleinement à la maxime des Zappartistes : rire est une si jolie façon de montrer les dents.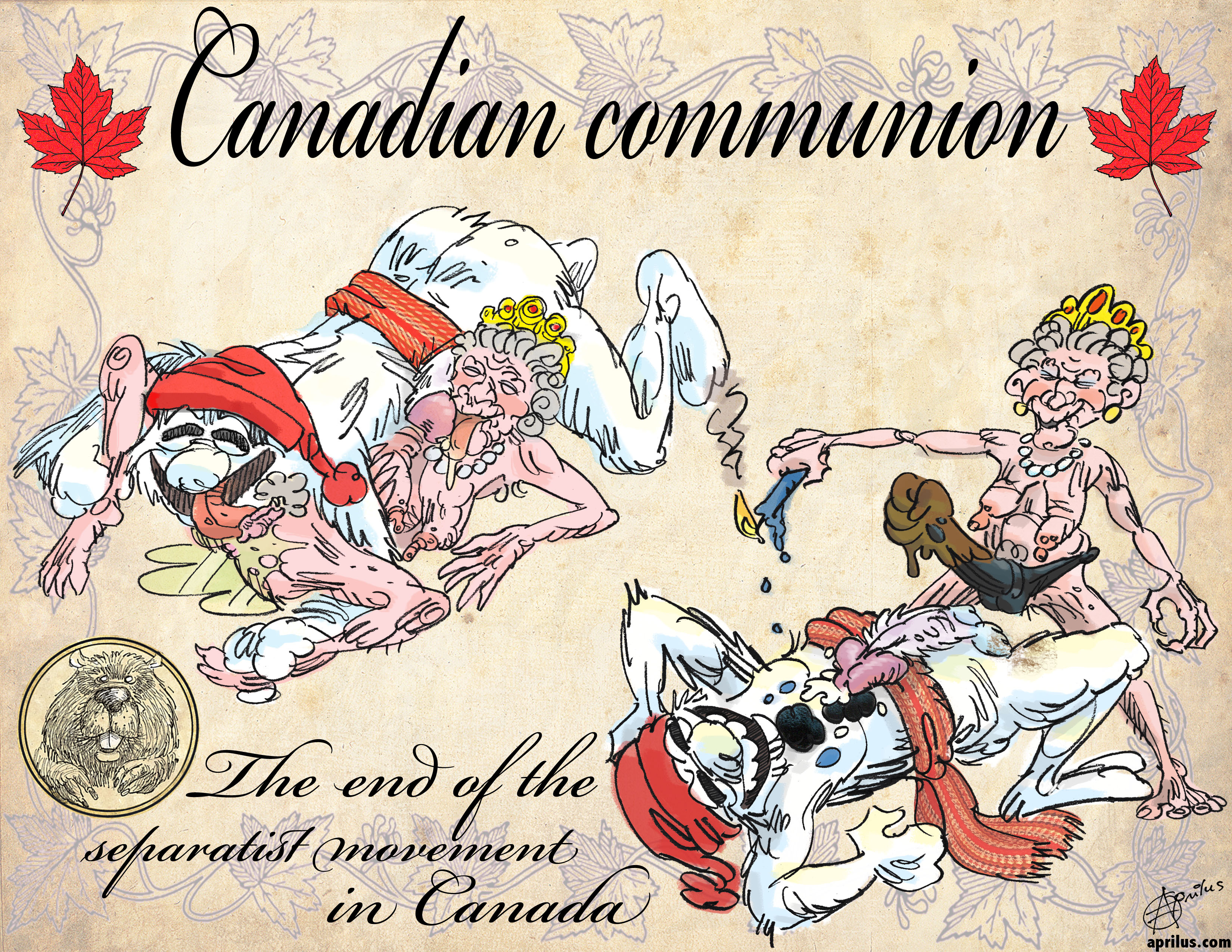 The extreme humor fell on me, thanks to Reiser, the dark thoughts of Franquin and to Pierre Falardeau's  » Elvis Gratton « . It stops me from planting bombs or throwing custard pies to politicians. This art, little represented in Quebec, is nevertheless spread in Europe, in particular in France with Charlie Hebdo, Siné Mensuel and Fluide Glacial.
If in school this subversive tone was worth me from having my works exposed; on the other hand, we were many to see it as a real antidote against the right thinking which reigned then, disregarding revolts which boiled in the hollow of our adolescent veins. Saving and celebrating the nonsense of the world, the extreme drawing will always find amateurs.
These drawings are small bombs thrown to the mouth of the resignation, the obscurantisms, the Canadian federalism and of the insatiable capitalist gluttony. I subscribe completely to the maxim of The Zappartistes: laughter is a so attractive way of showing teeth.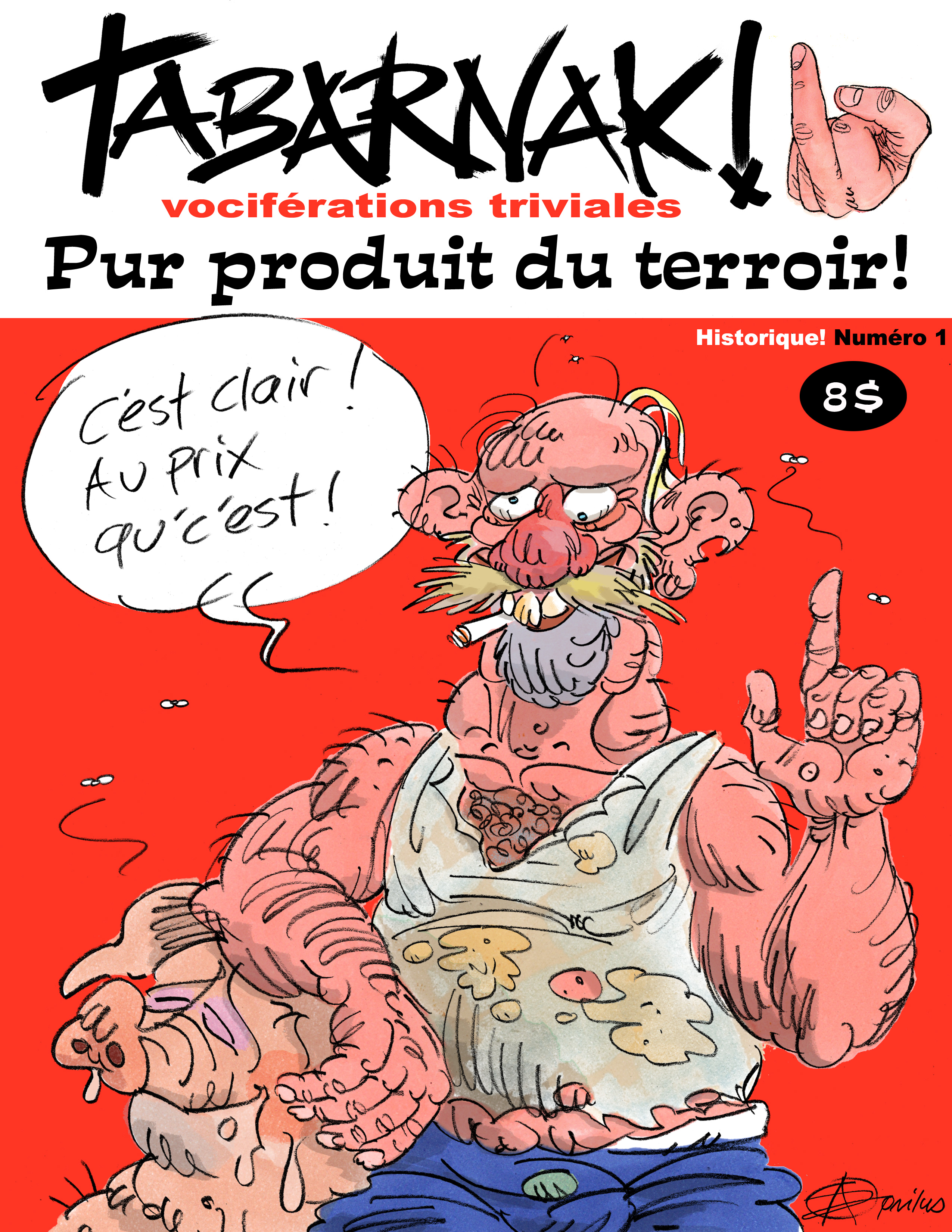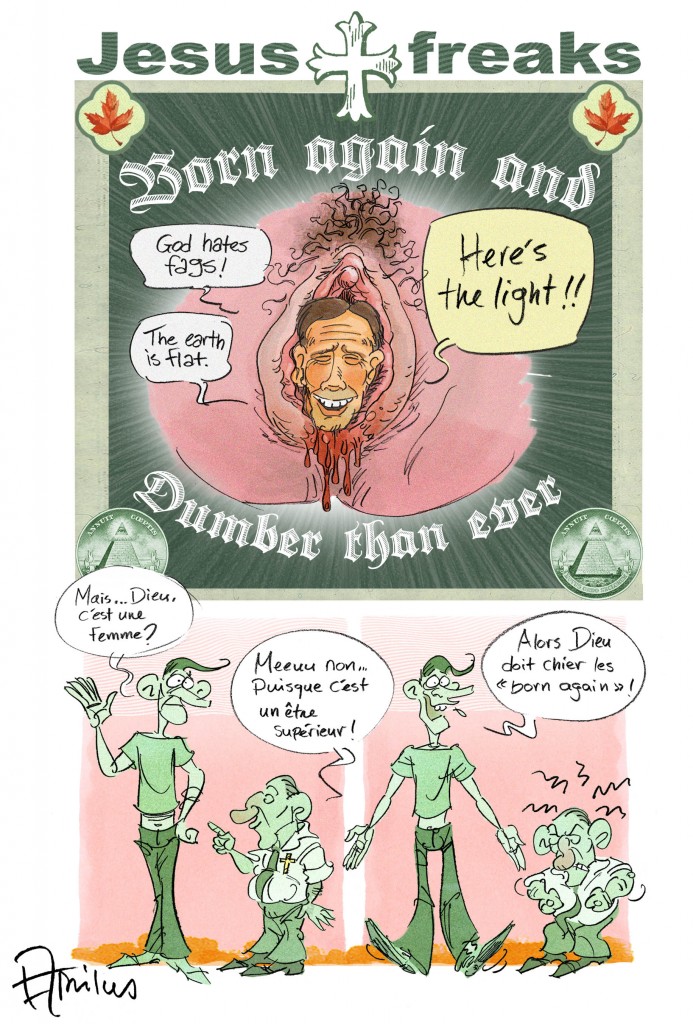 Aprilus – Illustrateur indépendant
Courriel : info.aprilus@gmail.com